IN our article about radio in Rhode Island in The Twenties (December 8) refer¬ence was made to Carl Spear, an early engineer at Station WEAN. A friend sent the article to Dr. Spear, now living in Woodbury, Connecticut, and from him the other day we received the following which lends added color to the lively picture of radio in these parts when it was new and w o n d e r f u l. Ed.
DEAR SIRS—
An old friend of mine, Russell C. Sheller of 10 Pocahontas Drive in Warwick, mailed to me a copy of
The Rhode Islander. I refer to your article "Radio: The Noisy Baby Grew Quickly."
Congratulations upon a highly entertaining bit of writing!
I was the builder and first operator of WEAN. Consequently, I'll try to supply some information to help fill the void of those early years. I wish Bob Shepard could read this, because he might be able to supply more details.
In September 1920 I was admitted to the Brown Graduate School as a candidate for the Ph.D. degree. My classmates were Simonds, Horace "Binge Prey, Bill Robinson, Cliff Hathaway (who became a physician in Peace Dale) and Lou Pieri (
RI. Auditorium
). I was the assistant to Sam Arnold, a young Chemistry professor, who later became provost of the university, and a lifelong friend.
My first contact with Bob Shepard came about through his ad in the
Journal
and his inquiries addressed to the Brown Radio Club. We all had hand-wound coils with crystal detectors in those days. Radio "bulbs" cost $9.00 each and were highly prized and used occasionally. I believe it was in the spring of '21 that Bob Shepard wanted me to try to obtain a Radio Operator's Commercial Grade License so that a station could be built and operated in Providence. At that time I held an Amateur First Class License with call letters 1OK. I went to Boston and called on George Butterworth at the Custom House. He had charge of the First District, New England Area. Armed with some old exams and cram books I studied ship and shore installations and finally passed the twenty words a minute code test and written examination.
In spare time, I built a transmitter. It was contained in a two foot cubical frame of angle iron. The oscillator circuit was powered by a five-watt Radiotron tube, modulated by a five-watt tube in a
Hartley circuit
. The filaments were heated by a six-volt storage battery. The power (plate) supply consisted of a lead and aluminum rectifier to change 110-volt ac into 90-odd¬volt dc. The rectifier jars (canning jars furnished by my mother) were filled with borax solution. The latter got hot and so limited our transmitting time to about two hours. Also, there was a background alternating current hum or growl— but nobody cared. They could hear voice and music! Later on, Mr. Landrie of the Shepard Store told me there were 110-volt dc power lines in the building. A mainten-ance crew brought leads up to the fourth floor. In short order we had solved the A.C. hum and the boiling rectifier problems.
George Butterworth inspected us and we were licensed. Our call letters were assigned as WEAN on a wave length of 368 meters. The studio consisted of a rough pine board partitioned room in the furniture department on the fourth floor. Later we moved to the Washington Street side, same floor. This, in a way, was convenient. Unknown to Bob Shepard, I could vary the furnishings of the little studio occasionally, from a great selection just outside my door. Also it did not require much imagin¬ation to toss a long coil of wire from the fourth floor window over the trolley wires on Washington Street to the roof of the
Strand Theater
. From the roof, the wire led down a ventilator to the pit of the theater. From there, I could broadcast the Strand Duo, two wonderful voices, soprano and baritone. I have forgotten their names but never their artistry. They sang regularly during intermissions between movies.
Maytime
was the going musical at that time. I wonder if it could be possible that the Strand Duo established the first "remote" transmission (away from studio)?
Our hours for transmitting varied somewhat during the time I operated the sta¬tion until June 1923 (or July), when I went to Belgium for research in chemistry. It would be safe to say that 3 p.m. to 5 p.m. and 7 p.m. to 10 p.m. were average hours. During the first year we were on the air perhaps every other day. I do re¬member giving weather reports in code (dots and dashes) at 6 p.m. for the benefit of youngsters who were studying to pass their amateur license exams. Bob Shepard paid me the going rate for shipboard operators, 55.00 a week and found. The "found" turned out 10 be a bonanza. It covered my rooms at the Providence YMCA and those wonderful dinners at
Shepard's Colonial Restaurant
.
Talent for our broadcasts were priceless literally. No one thought of being paid, and if you were asked to sing or play you were "in" and overjoyed at the opportunity. On the other hand, Bob Shepard didn't advertise either. It was all Simon pure except for one sneaky bit. Every time I played a roll on the player piano I had to mention that it was a
Welte Mignon
player piano (which the store sold).
Near the end of my stay at Shepard's I recall using the telephone line to broadcast the Army band from Fort Adams down the bay. Also, we regularly broadcast those great bands from Rhodes-on-the-Pawtuxet, the Saturday evening dances. This was great; I could take a date and dance the whole evening. The orchestra leader would give me the high sign in time for me to climb up to announce the next number with soloist and what have you.
I can remember some talent. We had choral groups now and then, with three mikes mounted in horns. There were instrumental soloists, vocal soloists, quartets and readers. I do remember that John Fitzpatrick of Shepards' was a person to lean upon. He played the organ at the cathedral on Westminster Street on Sundays. He knew everybody and he was Mr. Music of Providence to me "Tweetie" Krause worked at Shepards for John. Her father ran the beauty shop there. Sothern Abbott, later of WJAR, was a "regular" as was Helen Hathaway. Sud Abbott, Tweet, Helen and I often sang and played to¬gether informally, especially if there happened to be a "hole in the program" or some time left over near the end of a broadcast. The happenings were unpredictable and we never knew how we would do or what we would do. Evidently we were liked, because the fan mail said so. Everyone could carry the ball when he had to.
Once in a while Old John (Bob Shepard's father) came down from Boston. We were scared during these visits. Everyone had to stand at attention. I remember being asked (or told) to come to Boston to fix something at WNAC. Shepard Titcomb, Bob's cousin, was in charge of the radio, store at Shepard's. "Shep" kept us informed daily of the customer's gossip about our radio programs. We took many a cue from his briefings. He and his customers often were credited with lining up or suggesting talent for the broadcasts: Van Veachton Rogers, a famous harp teacher, for in¬stance. Blanche McNeice, buyer of the glove department brought her husband, Walter, who sang a dramatic
Ah Sweet Mystery of Life
. There had to be a repeat performance. Bill Place, renowned man¬dolinist and his wife, Vivian, harpist, came to solo and returned for duets. This was a marvelous combination of instruments (also flute and harp). Bill and Vivian operated a music store—"Place the Place, It's Place's Place." Bill Cameron, I remember, went on to a career with the United States Army Band in Washington.
Dutee Wilcox Flint came as a visitor and was fascinated. He lived in the big stone mansion, now owned by the Masons, on Narragansett Boulevard. He wanted me to work on a transmitter for his home. We located it in the top of a turret stairway and it went on the air as WDWF. Dutee Flint had a wonderful pipe organ in the central area of the mansion, with "echo chambers" (organ pipe installations) located in various bedrooms, dining room, etc. The organ console was located in a large living room running clear across the north end of the mansion on the second floor. There was a player attachment, similar to player piano rolls, for automatic operation. Often John Fitzpatrick came to play for Dutee his favorite Bach, and the broadcast was for the "enjoyment of the neighbors."
One day Dutee Flint came to the studio to complain of a high pitched humming noise "which was interfering with the music on his transmitter." I asked him to go home and start up the transmitter and play an organ selection so I could listen to it. Sure enough, behind the softer dynamics of the music, I could hear the hum, evidently a commutator hum from the DC generator he was using. On my way home that afternoon I bought a condenser from the local power company for $2.00, went down to the mansion and installed it, in bone chilling cold, in the tower room.
A week or so later I got an exciting letter from Dutee Flint, with a check for $50.00! He had been heard on the west coast, confirmed by telegrams. Now this was sheer luck and coincidence and had nothing to do with my repairs. Every factor of time and weather and atmospheric conditions had been in his favor for that particular broadcast Also in those days there were no other station interfer¬ence problems and the "air" was favorable for DXing (long distance reception). I took the trolley down to his home to return the fifty dollars but he would have none of it. He said, I "shouldn't be running around depending on trolley serv¬ice. How about a Ford?
Has the date been set for your wedding? When it is, I certainly want an invitation, and you know what your wedding present will be!" When that time did come, we thought it too presumptuous, and Dutee Flint got no invitation. We bought our first car in 1926— a Chevrolet.
It has been a pleasure to recall all these doings most of All, treasure a delicious memory from early 1922. "Tweetie" Krause phoned me at the studio one afternoon and the Conversation was brief and to the point.
"Carl, I've got talent with a capital T for that slot on tomorrow night's program."
"Is she gorgeous?"
"Who said it is a 'she'? It will be the first time for a harpist on the air." Click!
The following evening, well before broadcast time, Helen Hathaway appeared at the fourth floor studio.
"My name it Carl Spear, and I am the announcer."' neglected to add the words wireless operator, electrician, janitor and general handyman. "Can I be of any help?"
"Well, you could move my harp into position."
And, I've been moving it ever since. We were married on New Year's Eve, 1929.
Dr. Carlton Spear
Woodbury, Connecticut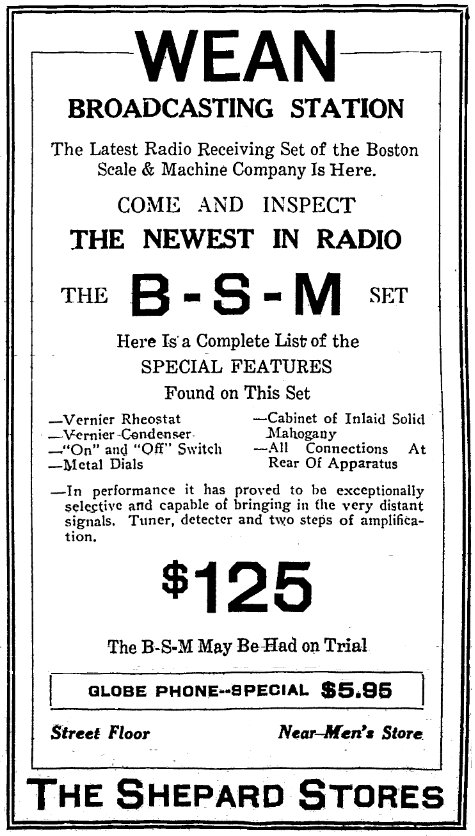 Pawtucket Times October 21, 1922



Click to enlarge
Providence Journal
November 5, 1922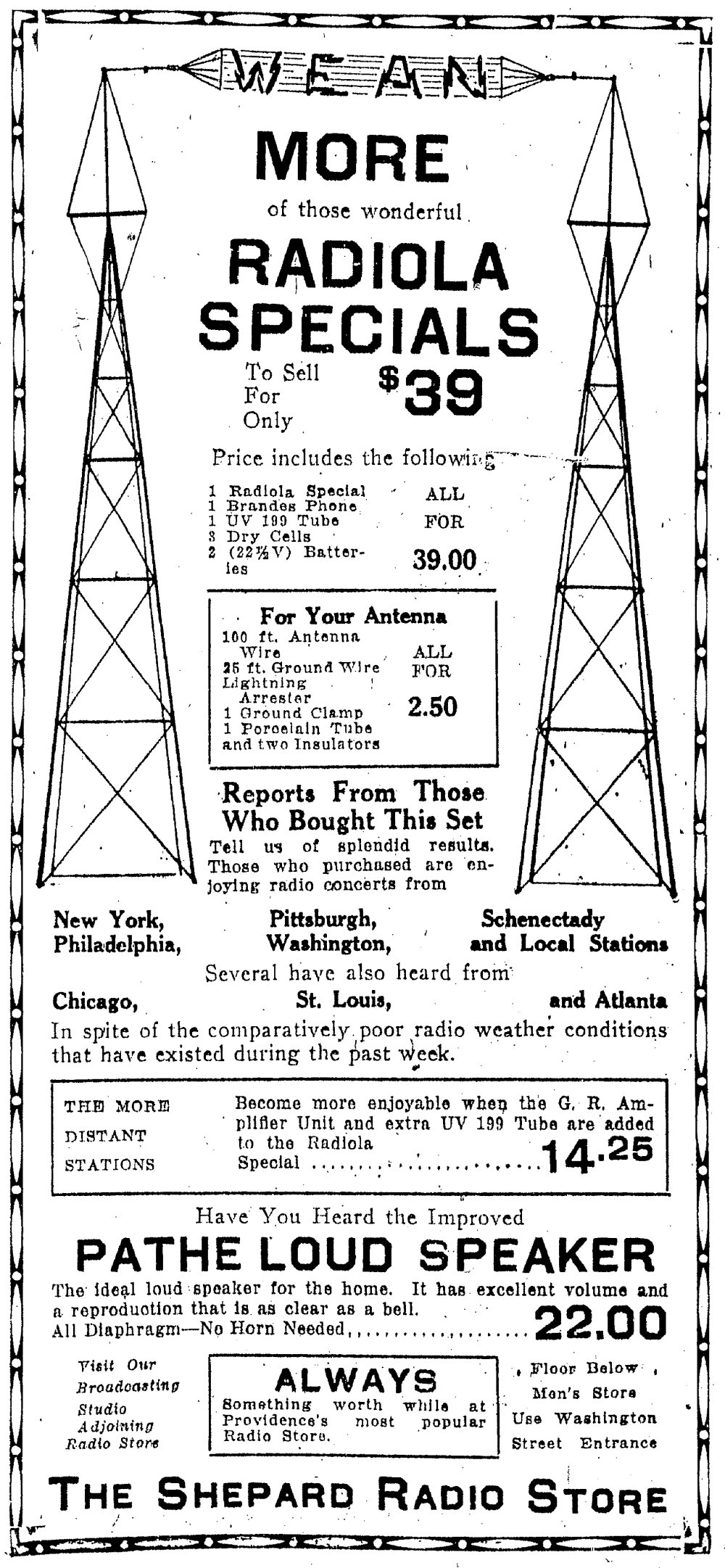 Click to enlarge
Providence Journal October 7 1923



Click to enlarge
Providence Journal
October 21, 1923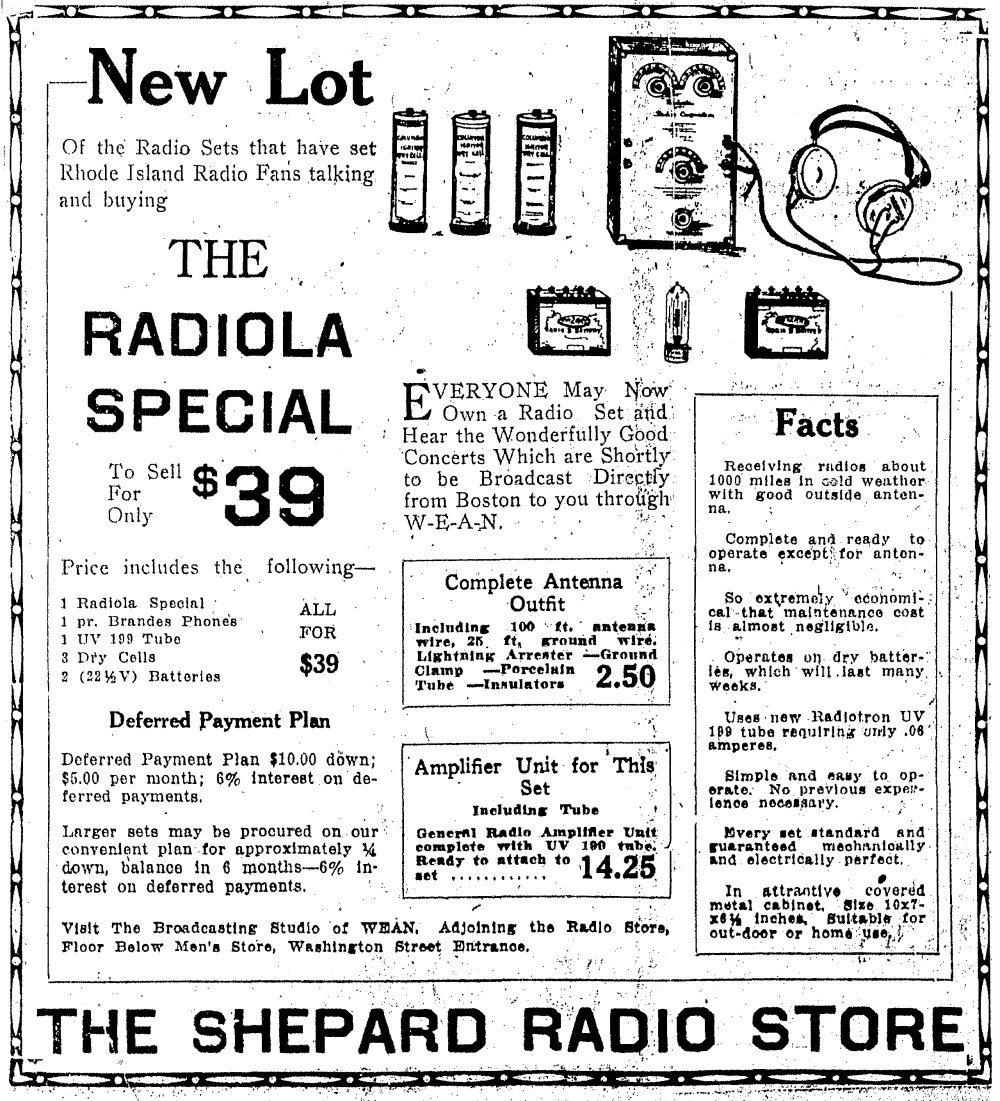 Click to enlarge
Providence Journal
October 28, 1923


1923 Yale Harvard Foorball Game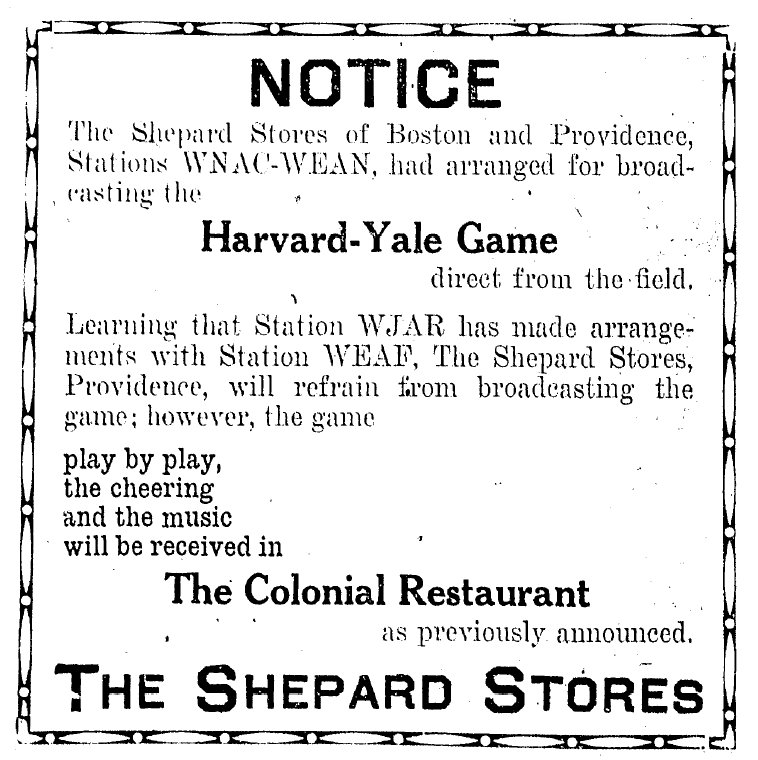 Click to enlarge
Providence Journal November 24, 1923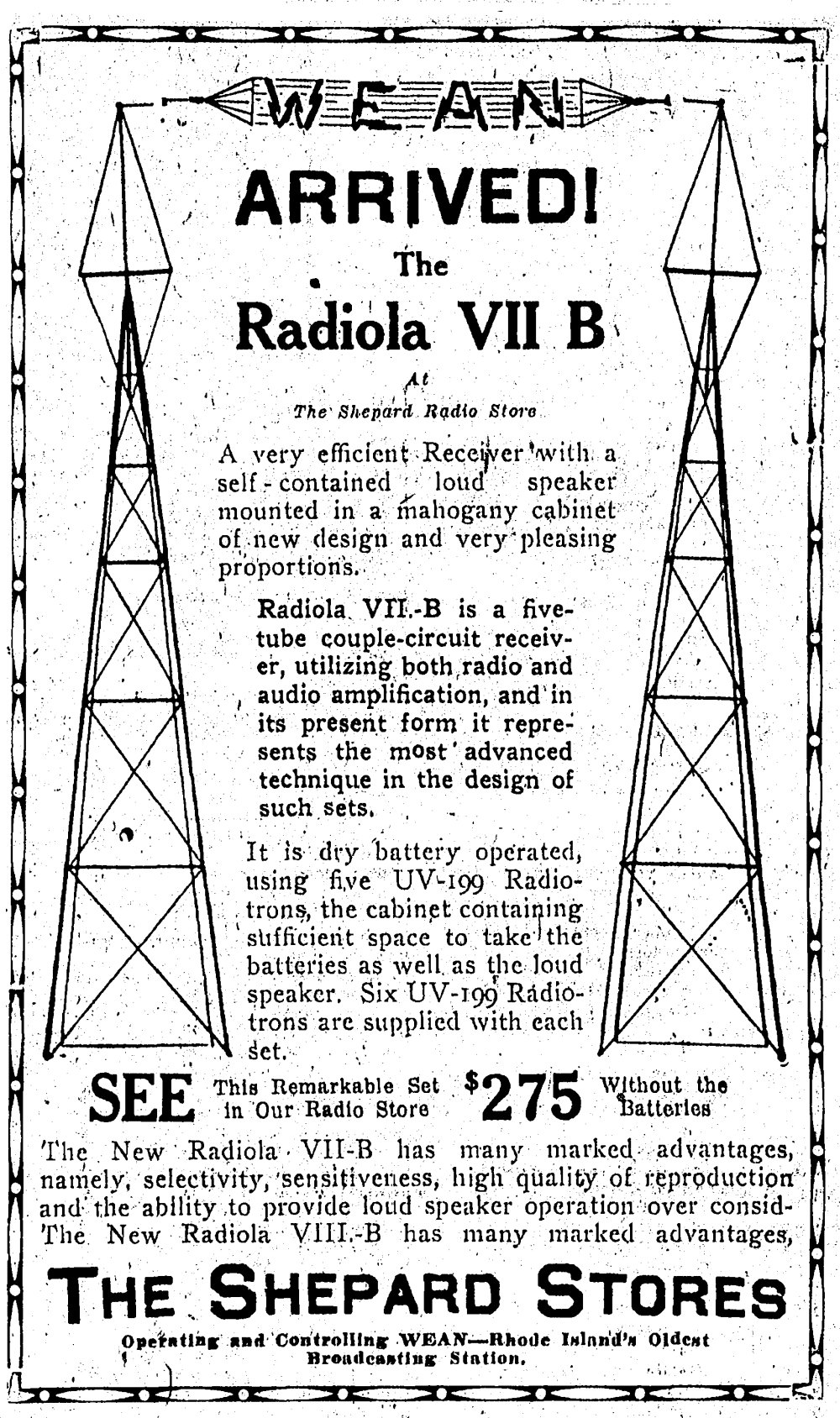 Click to enlarge
Providence Journal
February 3, 1924



Click to enlarge
Providence Journal February 10, 1924

Click to enlarge
Providence Journal March 9, 1924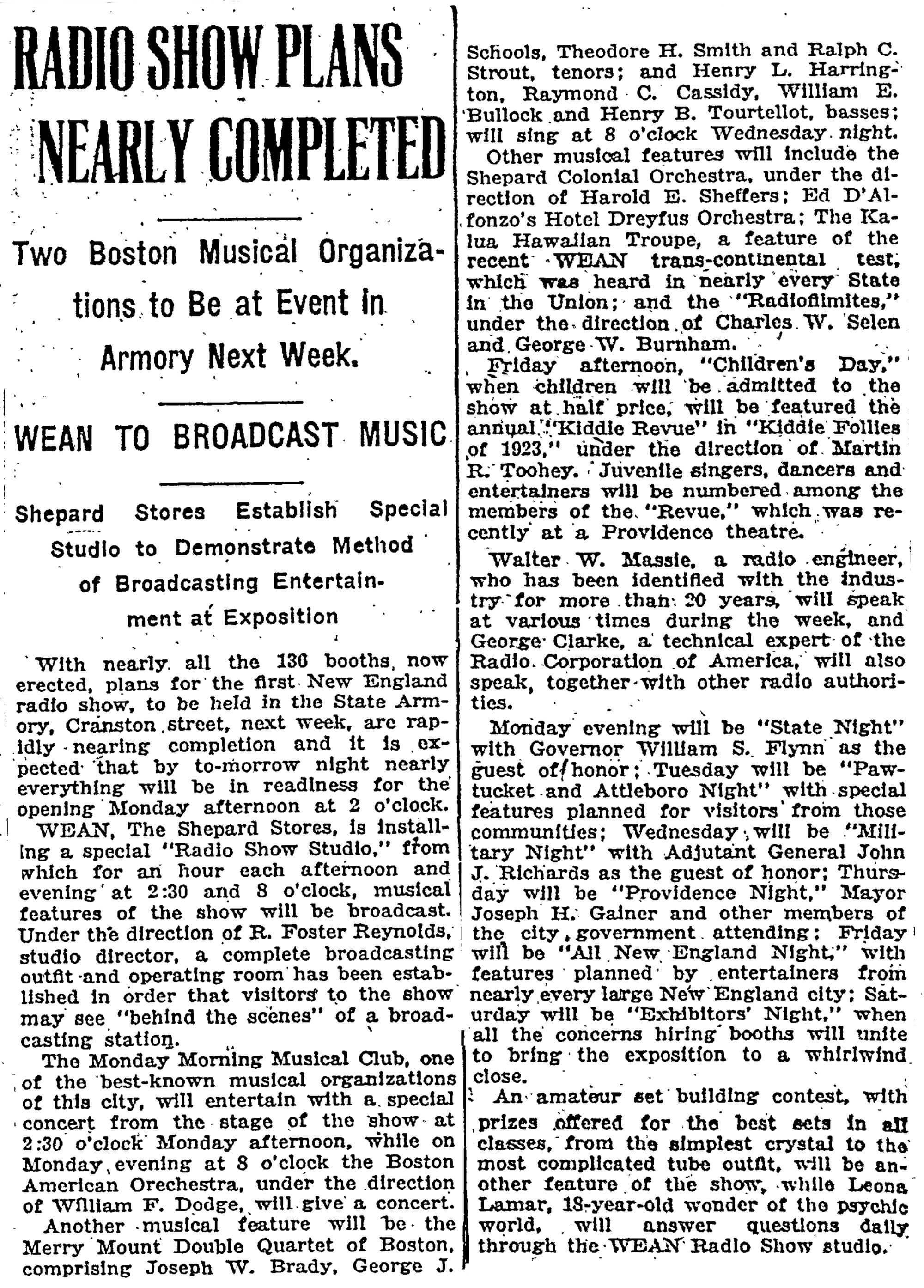 Click to enlarge
Providence Journal
May 9, 1924



Click to enlarge
Providence Journal
November 16, 1924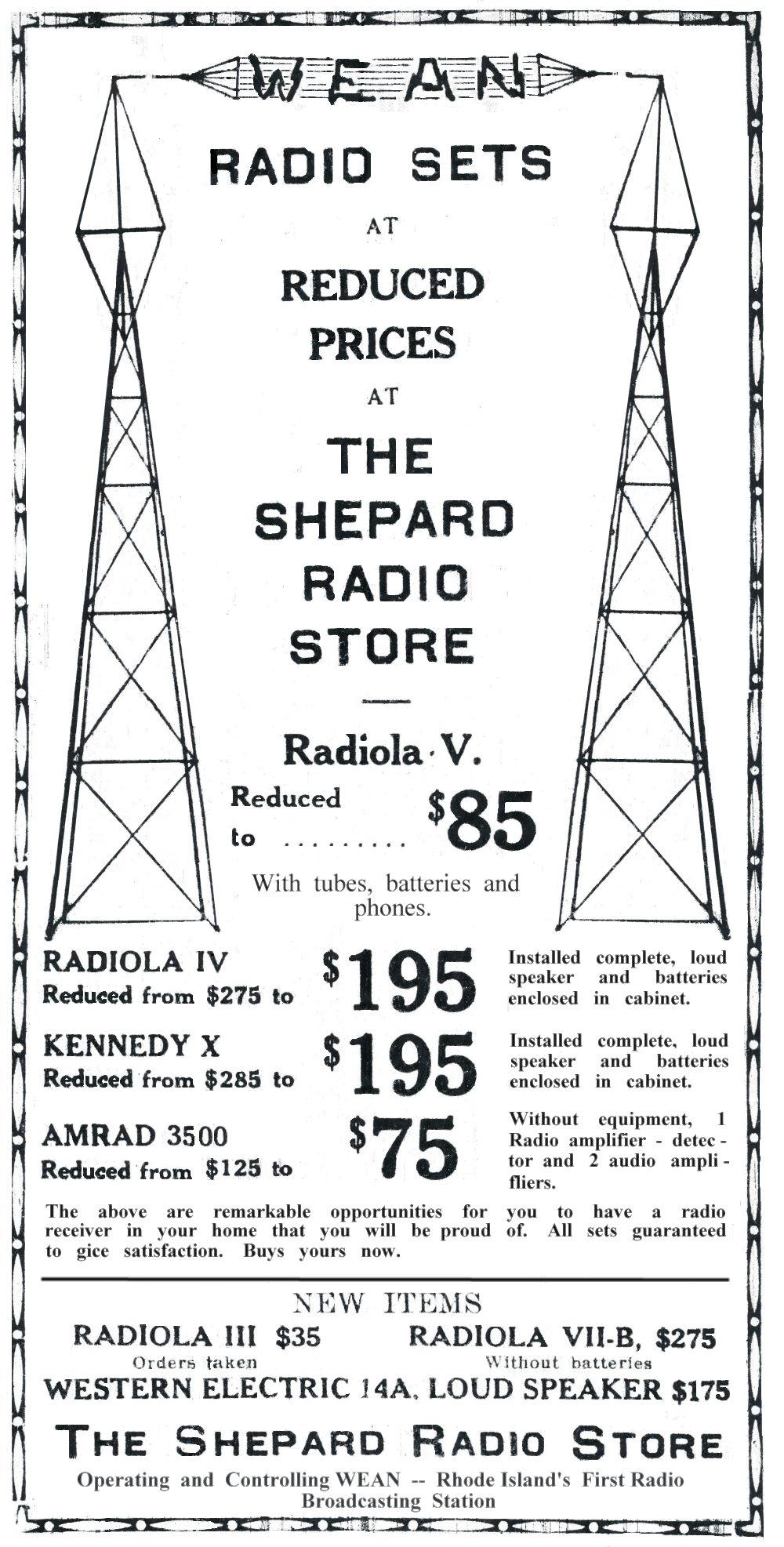 Click to enlarge
Providence Journal 1925



Radio Retailing February 1925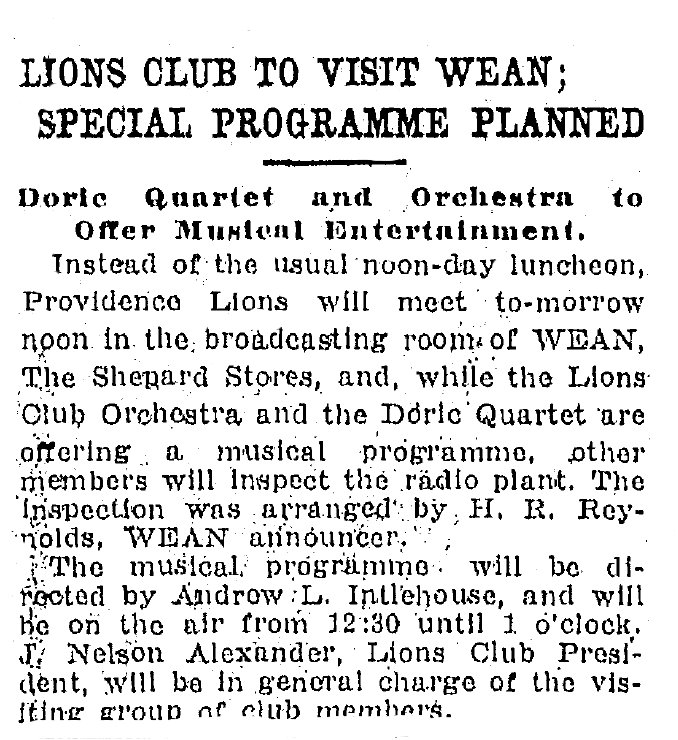 Providence Journal
March 4, 1925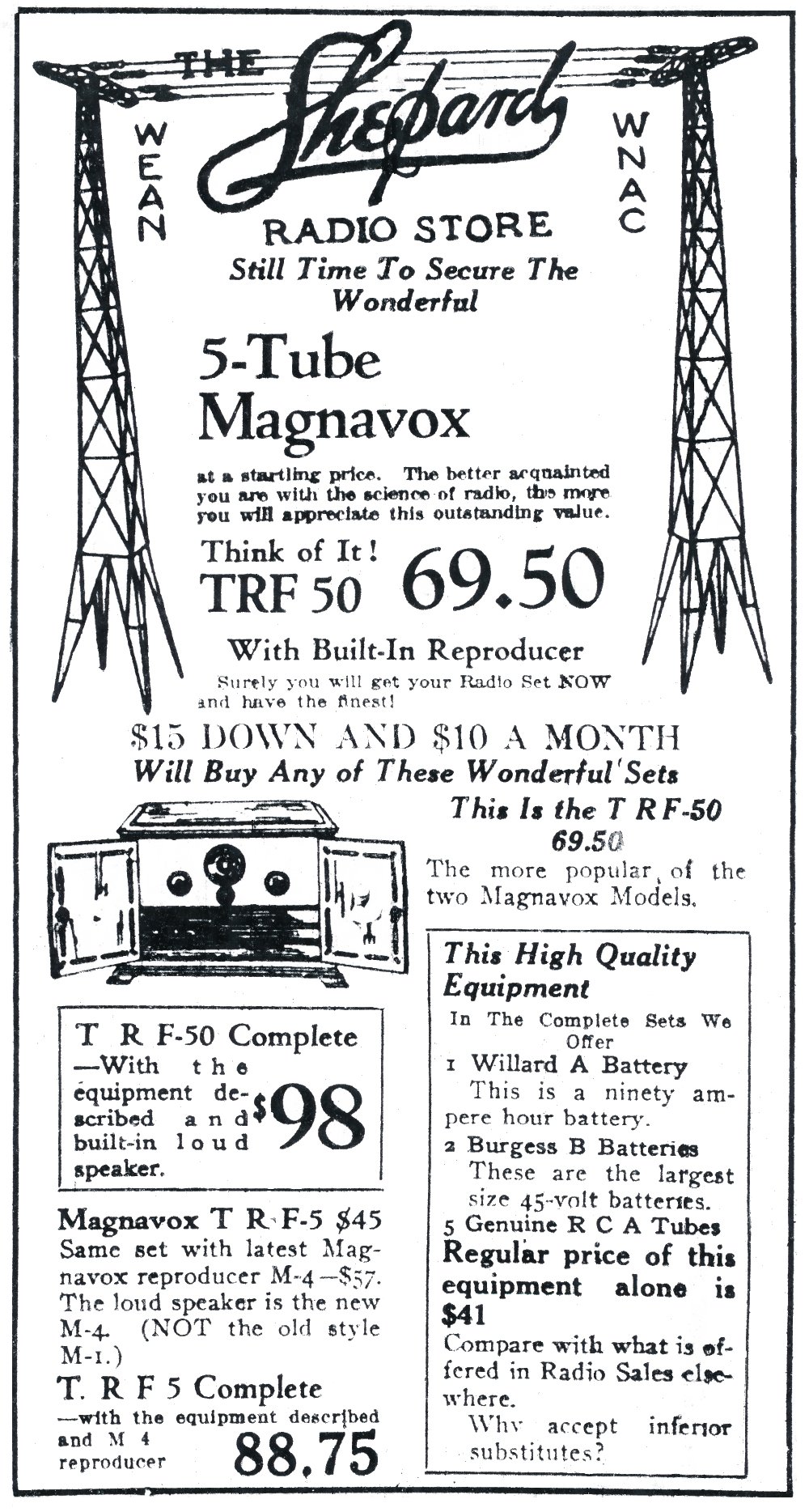 Click to enlarge
Providence Journal
April 26th, 1925



In August of 1925, the WEAN radio station was completely desroyed by fire. WEAN then went to a reduced program schedule relayed from other locations.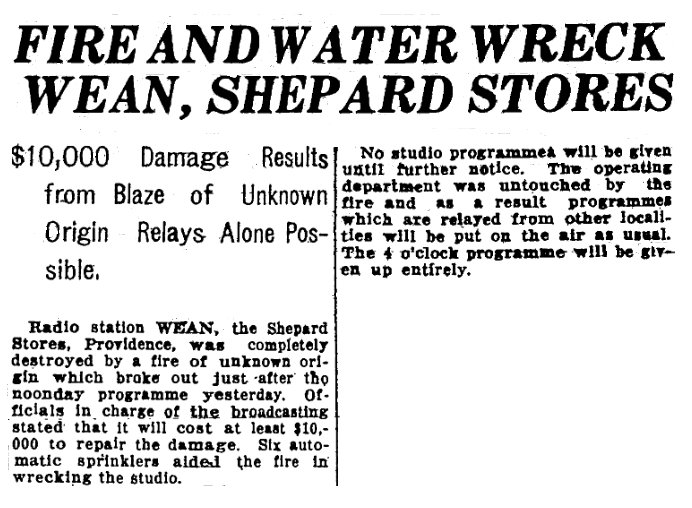 Pawtucket Times August 13, 1925



Pawtucket Times August 14, 1925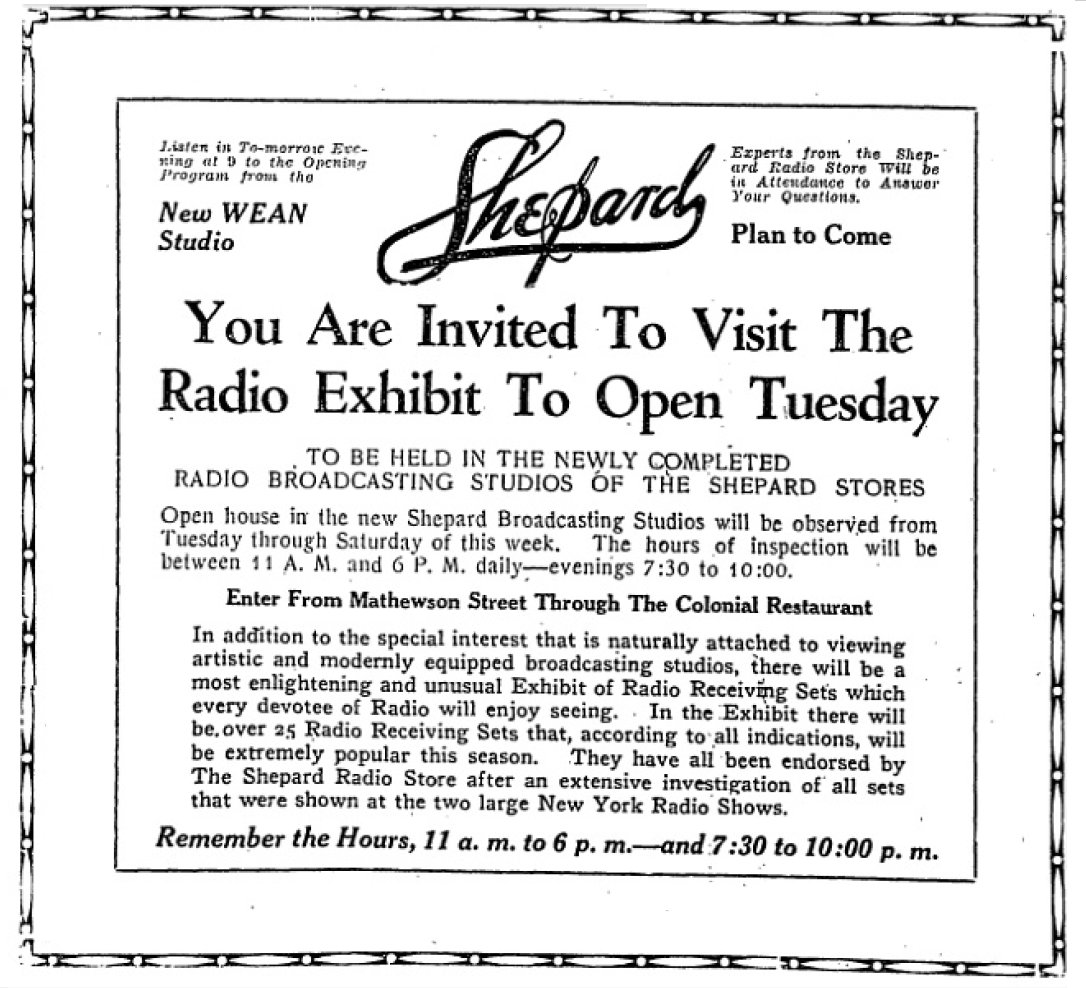 Click to enlarge
Providence Journal
October 4, 1925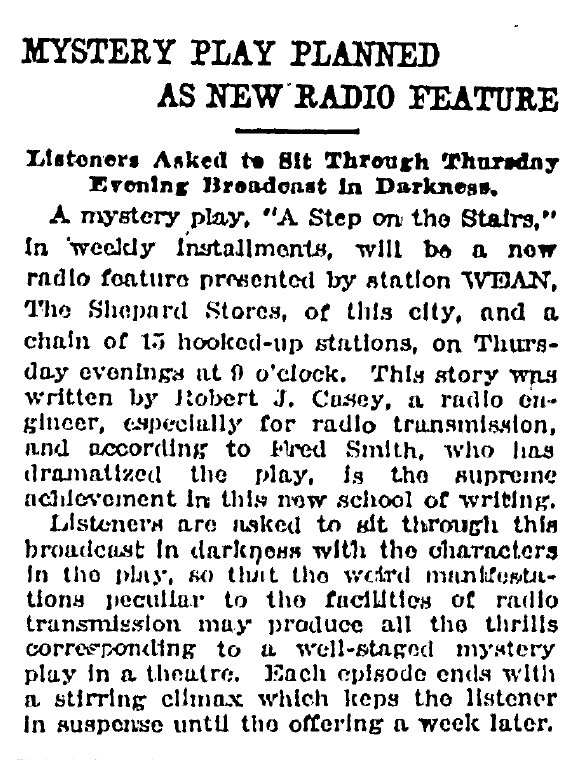 Providence Journal
February 23, 1926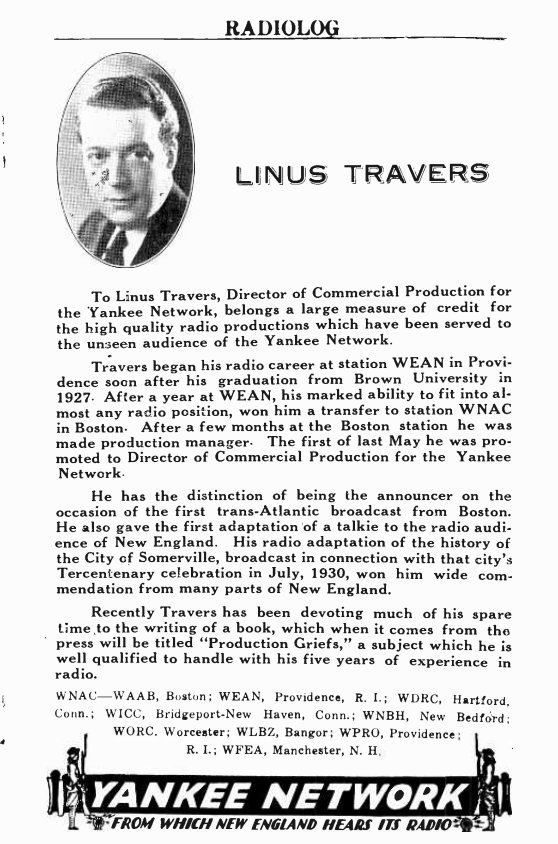 Radio Log June, 1926



Providence Journal
August 23 1926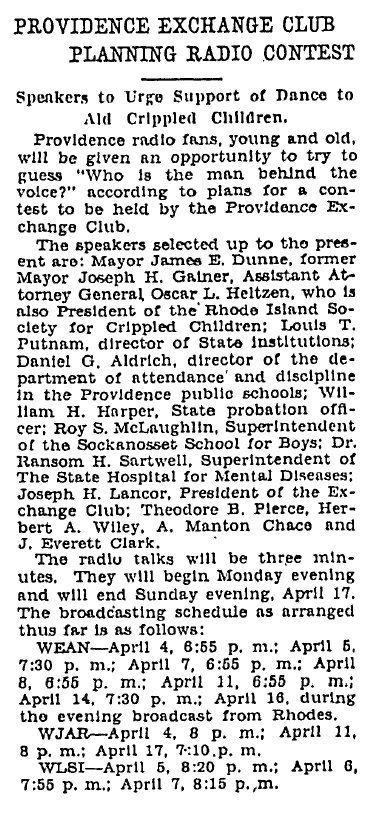 Providence Journal
April 1, 1927

Pawtucket Times October 17, 1927

Providence Journal
October 14, 1928



Click to enlarge
Providence Journal
October 18, 1925



Provicence Journal May 2, 1931

Radio Digest July, 1931
In September, 1933, the Shepard Company sonated it's two radio towers which were used by WEAN to the Police Station at Chad Brown. The towers were located on the main Shepards Store for use by WEAN.


Providence Journal
September 3, 1933



Providence Journal
September 5, 1933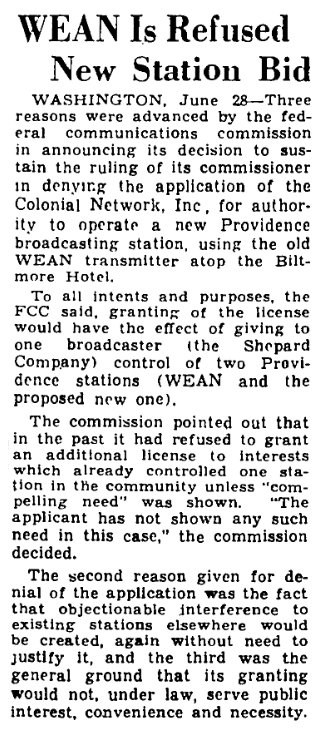 Pawtucket Times
June 28, 1938




Click to enlarge
Providence Journal
December 22nd 1948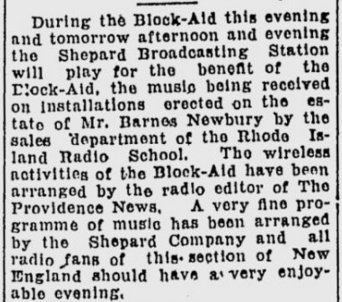 Click to enlarge

So now, John III and Robert Shepard were both retailers and pioneer broadcasters. In 1923, John was elected Vice President of the National Association of Broadcasters at the group's first convention in Chicago.